Project Information System (SIP)
The Project Information System (SIP) is the tool to support integration infrastructure planning and analysis containing systematized information on the COSIPLAN projects. The information in each project file is kept updated by one responsible person appointed by the country or countries involved in the project.
COSIPLAN Project Portfolio Database
It contains the files of each project included in the COSIPLAN Project Portfolio (known as "individual projects" for the purposes of the System) with general information organized in modules. This database enables the user to make queries and create reports based on the query criteria selected.
API Structured Projects Database
This contains the files of the structured projects included in the Integration Priority Project Agenda (API). The information in these files is organized similarly to the data in the individual project files. Both the structured and individual project files are linked to one another. Furthermore, the API Structured Projects Database includes a series of reports on the Agenda.
API Continuous Monitoring System (CMS)
The CMS module helps monitor the progress of a project throughout its life cycle (based on the Methodology for Scheduling the Life Cycle of Projects) as well as identify any deviation and its causes. The module controls the progress of structured projects by monitoring the individual projects that make them up.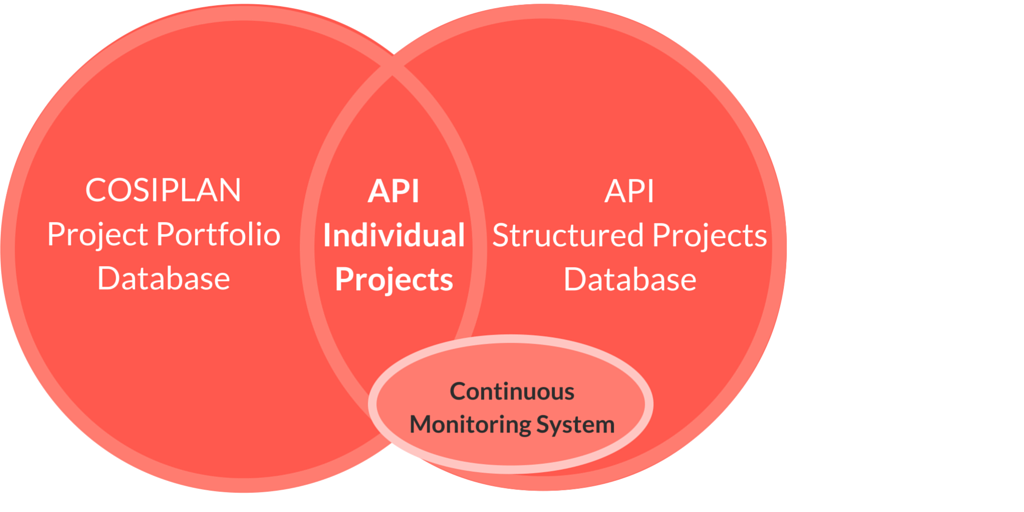 Documents
Anexo 10: Manual del Usuario del Sistema de Información de Proyectos del COSIPLAN (Usuario Administrador)

December 2014

Anexo 9: Manual del Usuario del Sistema de Información de Proyectos del COSIPLAN (Usuario)

December 2014

Methodological Principles to Schedule the Life Cycle of the Projects

February 2014

Methodological Principles to Schedule the Life Cycle. Summary

Report of the Project Portfolio COSIPLAN 2013

API Progress Report 2013

Sistema de Monitoreo Permanente (SMP) de la API. Informe de Avance 2012

Integration Priority Agenda (API). Progress Report 2012

API - Integration Piority Project Agenda 2011

Manual del Usuario de la Base de Datos de Proyectos Individuales